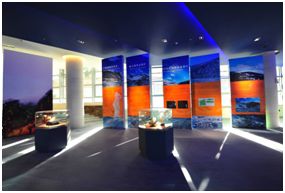 Currently, KeketuohaiGeopark is in the main touring route from Fuyun County to KeketuohaiTown then to Irtysh Grand Canyon, and it has already owned the relatively complete identification and interpretation system.At present, there are fixed science popularization places in the Geopark: tourist center and museum of the Geopark, with a floor space of 13, 000m2; the construction area covers6000m2, among which the museum, intact in content and modern in design, constructed according to the requirement for" Science Popularization Base of Land and Resources", covers an area of800m2.
A main monument and a main monument plaza have been built in the Geopark, which is located next to the visitor center inLongmenPlaza. Sign boards include: traffic guidance boards, one from Fuyun County to Wuqiagou and 3 from Kekesulito KeketuohaiTown; regional explanation boards, one general explanation board at the geopark gate, one each for Yileimu Lakeand Kekesuliscenic area; scenic spot explanation boards, mainly for the scenic spots in Irtysh Grand Canyon Scenic Area.
In the aspect of talent cultivation, by carrying out the method of "inviting-in and sending-out", 12 different trainings covering etiquette and tourist commodities marketing are conducted by experts of Xinjiang for about 1100 employees.52 minority employees have acquired the certificate in Travel and Tourism. More than 500, 000 Yuan has been invested and more than 100 personnelshave been selected to learn managerial experience in renowned domestic scenic spot. The backbone talents have been assigned to key positions. Post rotation has been carried out so that 57 multi-functional and versatile backbone talents have been cultivated. The quality of tourist practitioners have been improved through trainings. A good image of "Great Keketuohai" has been established.